Ross MacDonald
Biographies
Ross Macdonald: A Biography, by Tom Nolan, Scribner (1999).   If you read only one book about Macdonald it should be this one.  Nolan had wide experience as a magazine writer and was able to interview many of Macdonald's contemporaries.  Macdonald's widow, Margaret Millar, spoke to Nolan at length, and he had full access to Macdonald's personal papers.  Nolan's research is painstaking.  He has produced a sympathetic but objective portrait.  I suspect that he knows more than he tells about the details of Macdonald's family life, but there are enough hints so that we don't need every detail.  The only qualification I have is that the book is exactly what its title says—a biography.  Every one of Macdonald's books is mentioned, but each one gets just a few pages, including the plot summaries.  If you want extended critical studies of his works, you will need to look elsewhere.   Fortunately, there are several places for that.
Ross Macdonald, by Matthew J. Bruccoli. Harcourt Brace Jovanich (1984).  This is part of the HBJ Album Biographies series, a large-format book, heavily illustrated.  The author has written many critical works of modern authors.  He recognized Macdonald's work at an early stage of his career and knew him well.   This gives Bruccoli something Nolan did not have, for all of Nolan's research.  Nolan deeply understands Macdonald's background; Bruccoli brings him alive. The book has photos I have not seen anywhere else.  Although he is perhaps too sympathetic about some of Macdonald's weaker books, he paints a helpful picture of how Macdonald's life and work entwined.  Bruccoli reworked much of the material in this book into several others which I am not listing separately.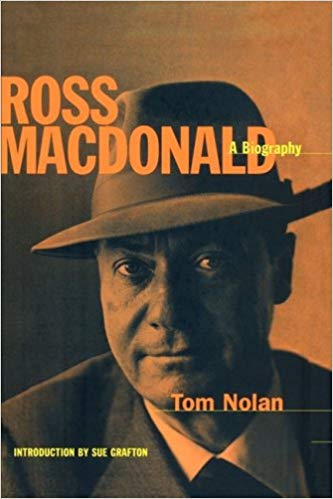 Critical Studies
The Novels of Ross Macdonald, by Michael Kreyling, University of South Carolina Press (2005).  The author is a professor of English at Vanderbilt and has published several volumes of criticism, including one on Eudora Welty (see Meanwhile There are Letters below.)   He packs a lot into 165 pages.  He emphasizes the academic origins of Macdonald's work, and identifies Macdonald's time with W. H. Auden as being critical in his evolution as a writer.  His opinions of some of the novels are at variance with many other critics, which is how it should be.  There can be no debate without disagreement.  For me, this is the most useful of the critical studies.
Ross Macdonald, by Bernard A. Schopen, Twayne Publishers (1990).  Schopen is a mystery writer himself, which gives this added interest, and he analyzes the books in terms of their dramatic effectiveness, weighing what works and what does not.  He has clear opinions, strongly stated and well argued.  As a writer myself, I find his approach very accessible.  The book has only two flaws.  First, because it was published before Nolan's biography, Schopen did not have access to its fund of personal information about Macdonald.  Second, because it is part of a standardized series on American authors, at 131 pages, it is too short.  Which is a good thing to say about a book; I am reminded of the Ambrose Bierce review that the book had too much space between the covers.  Macdonald produced 19 novels and a volume of short stories.  To do him justice is a bigger project.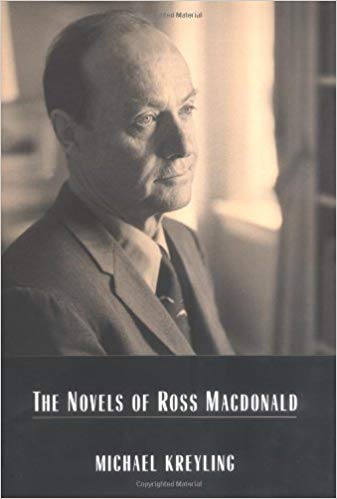 Dreamers Who Live Their Dreams: The World of Ross Macdonald's Novels, by Peter Wolfe, Popular Press (1976).  The author, a professor of English, is unbelievably prolific, with approximately twenty full length critical studies of twentieth century authors.  I don't know how he does it.  At 337 pages, he has given himself room to work.  The analysis is careful, sometimes almost line by line, and he seldom makes a conclusion without justification.  He is a structuralist who looks at the text without probing too deeply into the personality of the writer.  This may make this a book of more interest to those interested in literature as a form rathan than ordinary readers.  Like Schopen's book, this one was written before the Nolan biography.  It was also written before The Blue Hammer, which is unfortunate; I would have loved to know what he thought of it.  Whether The Blue Hammer was an exciting step in a new direction for Archer or was evidence of the author's decline is a question that will be discussed as long as Macdonald is read.
Ross Macdonald, by Jerry Speir, Frederick Ungar Publishing (1978).  Written as part of a series on detective and suspense writers, it was crafted to fit a space, in this case, 160 pages in a large font.  It's a shame, because it's well written and Speir has some good insights and he knows his subject.  I do not agree with some of his conclusions.  He is willing to overlook two of Macdonald's flaws:  his willingness to depart from reality to make a point about structure, and his love of implausible coincidences to carry the plot.  Again, it's a pre-Nolan work.  But still very much worth it.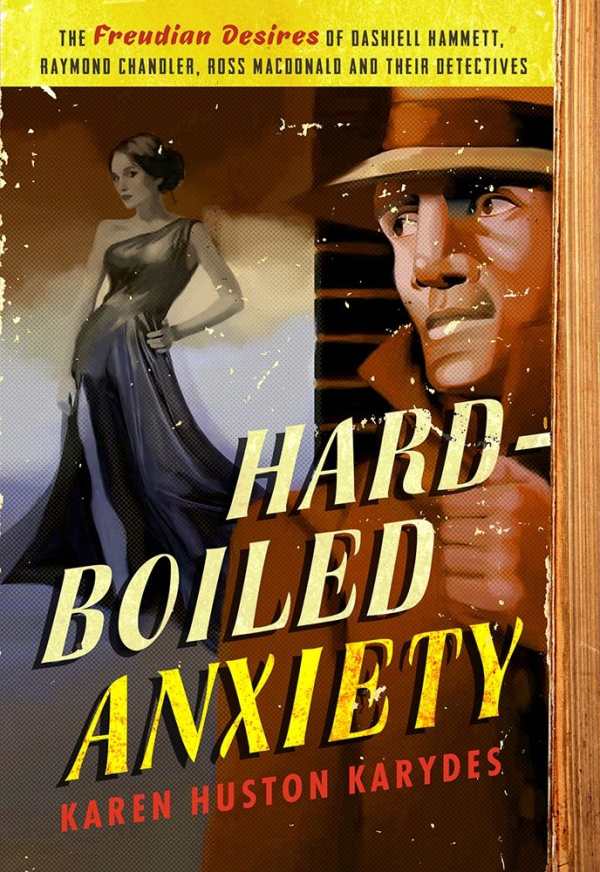 Hard-Boiled Anxiety, by Karen Huston Karydes, Secant Publishing (2016).   Karydes is in her seventies and is  the acquisitions   librarian in a small town on the Eastern Shore of Maryland.   As you would expect from knowing   that much about her, she   likes to write about sex.  The book is a study of the Freudian dimensions of the work,   not only of Macdonald, but Chandler   and Hammett as well.  The book is adapted from her Ph.D. dissertation.     She had access to a journal Macdonald kept   while he was undergoing psychoanalysis, so this is not just an   attempt to arrive at a diagnosis by speculating backwards   from the author's fiction.  Macdonald wrote frankly   about Freudian themes early in his career, most overtly in The Three   Roads, and no one who reads his work can   come away without the clear impression that Macdonald carried a heavy load   of sexual baggage.  This is one of   the few critical studies based on the access to his private papers available since the   death of Margaret Millar.  Karydes writes well and I enjoyed this one greatly.
Inward Journey, edited by Ralph B. Sipper, Cordelia Editions (1984.) This is a collection of essays, two by Macdonald, a brief one by Margaret Millar, and twenty-four by others, published in the year after his death and supervised by Sipper, who was a close personal friend. The essays are short and personal.   You will not learn a great deal about his books, but you will learn a lot about how his friends felt about him.  Macdonald was no extrovert, but he inspired great loyalty in those who chose to make the effort to get to know him, and it shows here.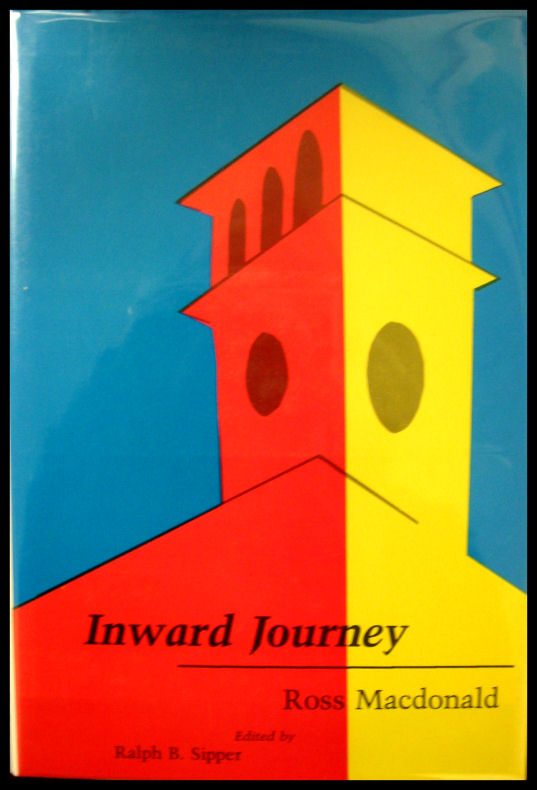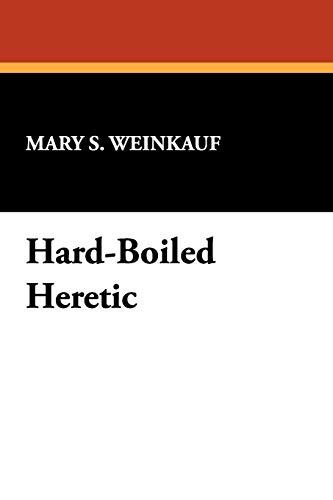 Hard-Boiled Heretic, by Mary S. Weinkauf, Wildside Press (2006).  Weinkauf is an ordained   minister and has taught English at the college level for many years.  Her book, unfortunately   only  114 pages long, is unique.  Everyone else who studies Macdonald proceeds chronologically.   Her treatment is thematic, taking a chapter to trace one subject through all his books, and then moving on to another   point.  She works quickly but it's an effective way to make her argument.  She has a vision of Archer as a sort of   secular priest, listening to his flock and offering advice and even his own sort of forgiveness.  It's a point also made   by Kreyling and I think it applies well to the later Archer books.
Other Important Sources
It's All One Case; The Illustrated Ross Macdonald Archives, by Paul Nelson and Kevin Avery, Fantagraphics Books (2016).   This one is a little different.  Paul Nelson, a writer for Rolling Stone and a great admirer of Macdonald, recorded 39 hours of interviews in 1976.  Nelson never produced a book or even an article, but the transcripts were the basis for this book.  Most of the time Macdonald is giving thoughtful answers; sometimes he seems to be putting Nelson on.  Question-and-answer is never easy to read for very long (trust me, I have been a trial lawyer for 40 years), and this is not a book you will read cover to cover.  But it has some great moments.  It's coffee table size, with reproductions of cover art from the various additions of his books, including some foreign ones.  The cover art is worth the price alone.  It's interesting to see how he was marketed over the years.  Some of the early covers are hilarious attempts to trick the public into thinking they are buying a Micky Spillane imitator.  One wonders what Macdonald thought of that.  There is also an extensive bibliography.  Even if you never read the interviews themselves, the book is still worth having.
The Great Gatsby, by F. Scott Fitzgerald, Scribner (2004).  Macdonald was a great admirer of Fitzgerald and felt that this was the best book Macdonald had ever read.  I personally think it's flimsy, hopelessly a product of its time, and that Daisy could be eaten by lizards for all I care.  But it had a huge impact on Macdonald; and having reread it in that light, I can see how influential it was.  Even if you don't care for it, it's worth the two evenings it will take you to read it as an insight into how Macdonald thought about fiction writing.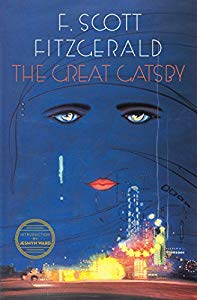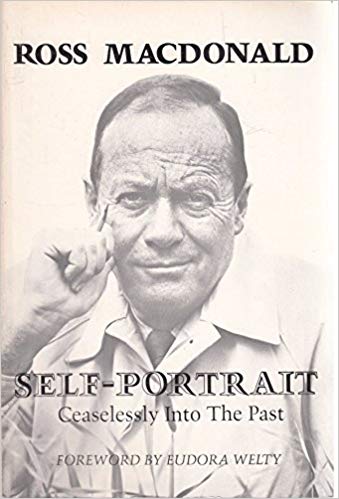 Ross Macdonald, Self Portrait, Capra Press (1981).   This is a collection of essays which were originally written as forwards or as speeches where he talks about his writing, his thoughts on other writers, and to a limited extent, his life.  The pieces were written over a period of many years.  By the time this book was published he was incapable of contributing anything new.  The book was brought out because there had been nothing new since The Blue Hammer in 1976.  There is nothing groundbreaking, but it is the source of many quotations about how he thought of his work.
Ross Macdonald. On Crime Writing, Capra Press (1973).  It is a slight book, only 45 pages, containing two essays, "Writing The Galton Case" and "The Writer as Detective Hero." My copy is signed by Macdonald, number 111 of the 250 signed and numbered copies.  It is something I treasure even though the two essays are also available in Self Portrait.
Suzanne Marrs and Tom Nolan, Meanwhile There are Letters; The Correspondence of Eudora Welty and Ross Macdonald, Arcade Publishing (2015).  This is the same Tom Nolan.  Marrs is a Welty scholar with several books on the subject to her credit.   Welty and Macdonald had an intense emotional relationship for more than ten years till his final illness.  Reading the letters, and appreciating the bond between them, is a deeply depressing exercise in thinking what might have been, especially towards the end.  But if you believe life is about learning rather than feeling good, I recommend the experience.
Matthew J. Bruccoli, Ross Macdonald/Kenneth Miller: A Descriptive Bibliography,  University of Pittsburgh  Press (1983).  This is a compendium of Macdonald materials of   primary interest to book lovers and people in the   book trade.
Robert L. Gale, The Ross Macdonald Companion, ABC-CLIO (2002).  If you think the title suggests a series of   essays and articles, think again.  This is a serious reference work, most of it being taken up with an index to his   work.  There is also an exhaustive bibliography, which is as current a resource as you are going to find in print.   Gale has produced something like two dozen of these "companion" books for other modern writers.  If you want  to know how many times the word "gun" appears in Macdonald's books, you need look no further.  I need a copy for this blog.  You may not.  If you do decide you want a copy, I suggest a used one; as with most limited run academic books, the cover price is salty.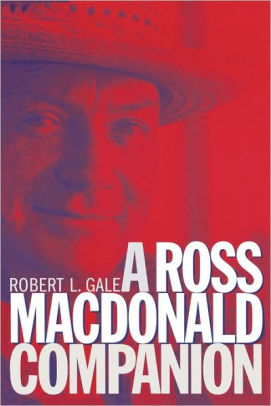 Online Resources
Macdonald's heyday was forty years before the internet, and he lives more in print than online.  I also hesitate to put up too much material here since low traffic links are prone to decay.  Someone in Sweden spent a great deal of effort creating a site that has gone dark.  In 2015, the centennial of his birth, a woman named Suzanne began a wonderful, carefully constructed website, https://seekingrossmacdonald.com/; although it is still live as of this date, it has never been updated since and my attempts to contact her have failed. I promise that I will review this page regularly, at least once every few years, take down decayed links and put up new ones.   As of now, here are some live ones:
The California Audiovisual Preservation Project has a 1975 interview, done through a National Endowment for the Arts project,  https://archive.org/details/cubanc_000193  The interview is worth your trouble; if not all the way through, at least for a few minutes.  It places Macdonald firmly in his time, with the old-fashioned square-aspect format, the faded sixties colors, and the vintage production style.  Macdonald was such a gifted writer, speaking to us from across the years, that it's a bit of a shock to realize how far removed in time his books are.  He was, I realized in writing this, about the age of my own father, a topic I am sure we will discuss in the blog.  Black and white still photos are one thing; seeing him move and speak in color is unforgettable.
On a crime fiction podcast, Pointblank, I found a discussion of The Doomsters, a book that I think is unfairly neglected. https://www.pointblankpodcast.com/single-post/2018/05/23/E-11—-Ross-Macdonalds-The-Doomsters-part-1   This is a two-part podcast but this is the starting point.
The Bookfight! Podcast has an episode about Margaret Millar that includes a good deal about her marriage to Macdonald. https://bookfightpod.com/2018/08/27/episode-242-summer-of-spouses-margaret-millar-and-ross-macdonald/  The first half focusses on Millar's work; the second half will be of more interest to Macdonald fans.
To mark the centennial of his birth, January Magazine collected tributes to Macdonald that can be accessed here: https://www.januarymagazine.com/crfiction/rossintro.html
Other Materials
Macdonald is mentioned in innumerable books, often in comparison to Chandler and Hammett. As a concession to the shortness of life I have confined myself to the books where he is the sole or dominant subject.  If you are interested in articles, most of the works mentioned have full bibliographies.  I recommend The Ross Macdonald Companion as the most complete and up to date example.
Join my mailing list and I'll let you know when I have a new blog post ready or a new book coming out!
I will never use your email address for any other reason.