Trouble Follows Me
                                                Part One
                                         Avast, Me Hearties!
"A woman must have money and a room of her own if she is to write fiction."
—Virginia Wolfe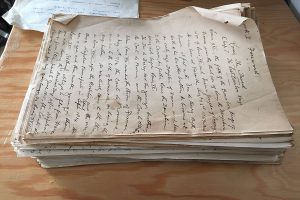 The process of writing a novel is hard work.  By contrast, most personal letters are a few hundred words long.  When I was writing for commercial publishing houses, my contracts stipulated that the minimum word count of an acceptable manuscript was 70,000.
Aside from the mental energy involved in imagining a story of that complexity, the writer must expend the physical energy necessary to produce roughly 300 pages of typescript.  Your eyes burn, your wrists and fingers ache, your lower back screams at you to take a walk.  You sit in front of the keyboard for the better part of a day for a month and at the end of it, with luck and diligent effort, you might have a third of a first draft.
Some novels are produced in agreeable settings that lend themselves to the process–Hemmingway's writing suite in Key West, Joyce Carol Oates' industrial workspace in Princeton, Phillip Roth's tiny house reserved for his writing.  Others are not so fortunate.  Chekov used to scribble his stories between patients, for example.  Novels have been written in odd places.  But Trouble Follows Me has one of the oddest birthplaces of all—aboard a US Navy escort carrier in the middle of the Pacific War.
After Macdonald completed his course work at the University of Michigan he joined the Navy and was commissioned as a junior officer.  His first assignment was the USS Shipley Bay, CVE-85, a small aircraft carrier used to ferry aircraft across the Pacific to the front lines, and also to conduct air strikes on her own.
I
I would describe the Shipley Bay as the ugliest ship ever constructed but that would give an impression she was unique.  She was one of approximately 80 such vessels constructed in the wartime rush and discarded shortly after the end of hostilities.  Like her sisters, she was small, only 500 feet long, and carried a crew of about 860 in addition to about 30 aircraft.  To give some context of how crowded she was, a vessel of roughly the same size, a Liberty cargo ship, had a crew of 40-60.
As an officer, Macdonald did not bunk with the enlisted men, but he shared his cabin with other junior officers.  Macdonald was a communications officer, which would have allowed him access to the radio room, a stuffy and noisy space crammed with radiomen and tube-based electronic equipment throwing off waves of heat during the long days at sea in the equatorial Pacific.  But at least he had the luxury of a place to sit down.
I neglected to mention that the Japanese Navy was not solicitous of his writing ambitions.   His ship participated in several major amphibious assaults.  Virginia Wolfe had her own travails, but she did not have to keep a lookout for kamikazes flying through the porthole.
Although Shipley Bay was fortunate in not being damaged by enemy action, she sustained an accidental fire as the result of a collision.
The Dark Tunnel was written on the University of Michigan campus, and as Macdonald observed, captured some of the campus atmosphere.   Although Trouble Follows Me is not set on a warship at sea, it is a product of his wartime experiences just as much as his first book reflects his exposure to the academic life.
Macdonald's experiences on the Shipley Bay affected his literary output in ways that are not obvious.    Many, if not most, of his works include veterans.  He understood from firsthand experience how wartime experiences can damage people.  He never wrote a war novel.  None of his books are set aboard a ship.  But the war and the Shipley Bay appear repeatedly in various disguises.
The following list is not exhaustive:
The Three Roads (1948) features a protagonist who served on an escort carrier and was burned in a shipboard fire.
The short story "Find The Woman" (1946) involves a fighter pilot flying off an escort carrier returning to the States after the Pacific War.
Meet Me at The Morgue (1953) involves a camera stolen from the escort carrier Eureka Bay, on which several of the characters served.
The Far Side of the Dollar (1965) has several characters who are linked by their service together aboard the escort carrier Perry Bay.
Sleeping Beauty (1973) turns in part on a wartime accidental fire on an escort carrier named Canaan Sound.
Before we delve into the book, let's see what the critics think.
Please follow and like us: