LUNA BAY
                      THE ENDING AND THE BEGINNING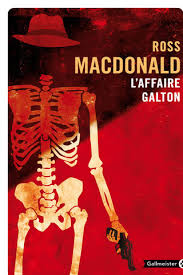 In the thirties, when Anthony Galton lived there, Luna Bay was a sleepy fishing village, so remote it was a good landing spot for rumrunning during Prohibition.  By the time Archer and Bolling take their road trip in the late fifties, it's already a town in transition into a residential suburb of San Francisco.
                                     Things Happen Fast In Luna Bay
             Archer picks up Bolling at his San Francisco home and drives him down to Luna Bay.  It's a long drive and Bolling sleeps on the way.  Sleep is a powerful narrative tool.  Macdonald has two people in a car for a protracted period but since Bolling has already told Archer what he remembers, there is, literally, nothing for them to talk about.  Readers of my own books will note how often Lisa, my detective's assistant, takes a nap while we wait for the next plot development.  She really doesn't sleep that much in real life.
At first, the trip seems like a bust.  The development of Luna Bay has gone too far for Bolling to spot twenty-year-old landmarks.  The best he can offer is that he thinks Brown's house was in the general location of a new housing development.
Now Archer earns his pay.  The only thing Bolling has given him to go on is that Mrs. Brown had lovely white breasts when she was nursing.  Rather than search for a woman who had lovely white breasts twenty years before, he approaches the problem from the other direction.  If the Browns had a baby they had a doctor, and probably it was a local doctor.
Archer is lucky, but he makes his luck.  With only a little difficulty he locates an older doctor, George Daneen.  Archer's interview begins to break the case wide open.
Daneen delivered John Brown, Jr.
He remembers the baby's parents well. Neither one of them seemed to have a job but John Brown paid for the doctor's delivery services with a one hundred dollar bill at a time when most of the doctor's patients paid in fish.
Brown wore diamonds and rubies; she was "a walking jewelry store." The doctor warned her that it was an invitation for robbery and urged her to be more discreet.
Brown came from an impoverished background and had no sense of how to care for an infant. Her back was covered with the marks of old beatings.  The doctor was certain that John Brown was not the cause.
Brown was so ignorant of child care that they hired a nurse, Marian Culligan.
Immediately after Christmas, 1936 everyone disappeared—the parents, the new baby, and the nurse, all without any notice.
Within the last few months, in the course of demolishing old houses to make way for a residential development, a set of bones were discovered buried in the house where the Browns lived.
The bones were that of a male of John Brown's age and general build, but no identification was possible because the head had been decapitated with an ax. Which suggests murder rather than suicide or a woodworking project gone badly wrong.
The boy, now in his early twenties, came to visit the doctor about a month ago and they have met several times since.
John Brown, Jr is working as an attendant at a gas station just down the road.
                            Let's Take Just a Moment to Draw Breath
             The outlines are still hazy but we know enough to make some educated guesses.
This is not a missing persons case anymore, assuming that the bones are John Brown's.
If Mrs. Culligan was in the Brown household in 1936 when John Brown met his death, Pete Culligan probably played some role in the crime. And Marian Culligan helped, or at least didn't stop it.
Culligan was murdered in Santa Teresa not long after someone claiming to be John Brown, Jr shows up several hundred miles away, in Luna Bay, where John Brown, Sr was murdered. Why now?
Whoever killed Culligan knew of Culligan's connection to Luna Bay, so there are more people involved than we know about.
Was Culligan killed because he knew the boy was an imposter or because he knew he wasn't?
Either way, as the expression goes, it's all one case.
Archer decides that he needs some gas.  And maybe the oil checked.
Please follow and like us: