AND NOW A WORD FROM OUR SPONSOR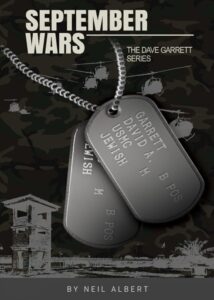 September Wars, The Ninth Book in the Dave Garrett Series is Out!
           Garrett's toughest case didn't start out tough. Or even as a case. Lisa talks him into attending a Vietnam veteran's reunion commemorating the fall of Saigon as a way of helping him deal with his PTSD. The vet who organized the reunion believes he is being followed and hires Dave to find out who and why. Almost immediately there is a kidnapping attempt on his client, but by who, and why? The chaotic final days of the evacuation come to life again, and the stakes are as high as ever, but this time the battlefield is Pennsylvania. And it's just as hard to decide who are his friends and who are his enemies.
          The book is available at Amazon in trade paperback and Kindle formats.  You can click through on this website or search directly on Amazon "September Wars Albert."
Please follow and like us: