THE WYCHERLY WOMAN               Part Eight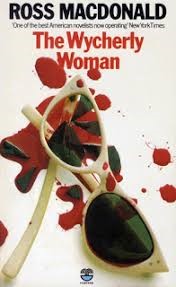 TWO STEPS BACKWARDS AND ONE FORWARD
Archer's investigation is methodical, but not always productive. He drives to San Francisco and interviews staff at the St. Francis Hotel.  He confirms that Homer Wycherly paid for a two-room suite for two nights starting November 1, and that he checked out on the morning of November 2, which we already knew.  The management has no idea if Phoebe, or anyone else, used the room the night of the second.
Archer's next stop is the office of Homer Wycherly's brother-in-law, Carl Trevor, who handles the family business.  Trevor has been following Archer's instructions, looking at photographs of unidentified women in morgues, with nothing to show for his efforts except an air of sick exhaustion.
Archer tells Trevor how he'd met Catherine at the Hacienda Inn the previous night. Trevor tells him about how the police found the body of Merriman, the realtor, in Catherine's house.  Despite the exchange of information the two don't trust each other, and when Archer reports that Catherine was trying to hire him to commit murder, Trevor shows disbelief and becomes angry.  When Archer raises the possibility that Catherine may have something to do with Phoebe's disappearance, the conversation degenerates further.
Things get even worse when, at Archer's suggestion, Trevor gets Wycherly on the phone.  Before the call gets ugly enough to get Archer fired, Wycherly says he has to go to meet with the trustees of the college about Phoebe's disappearance.
The only good that comes from it all is that Trevor authorizes Archer to hire the private detective Wycherly had fired—and says that he will pay for it from his own pocket if necessary.
                                    Macdonald's Peculiar Sense of Humor
            According to Tom Nolan, Macdonald's biographer, when Linda Millar signed herself out of her dorm room at UC Davis and never returned, Macdonald had a tense, ninety-minute meeting with the chancellor, where he said, "If my daughter is not found, and if the university proves to be guilty in this matter, you will never get over the day that I will make for you . . . I will shake this university to its foundations." (Emphasis in original)
Homer Wycherly's words are. "They're going to know who they're dealing with before I'm through with them."
Archer's private assessment of Wycherly is, "I suspected they knew already: a foolish man full of passions he couldn't handle."
                                                      But Back to the Case
It's time for an unusual move.  Throughout the series, Archer is very much a lone wolf.  When he does seek assistance, there's a good reason.  When it's something in Reno he has a relationship with a detective there.  (One based upon a real life private eye who found Linda). When he needs information about the LA entertainment industry, he has a source—not a private eye, just someone in the business. When he is approached by other private detectives they are usually shady types that Archer is right to mistrust.  But in this book, he has a brief but helpful relationship with a colleague.
The PI is William Mackey, based in San Francisco, the detective Wycherly hired last summer, before his ocean voyage and before his divorce.  The job was to find out the source of the poison pen letters. Mackey told Wycherly that the letters were from someone in the family; in response, Wycherly fired Mackey and demanded the letters back.
Wycherly had told Archer that he had destroyed the only copies of the letters, but Archer didn't believe that Mackey didn't make copies.  Sure enough, Mackey gives them to Archer, at no charge, as a measure of his disgust with Wycherly. Archer tries to hire Mackey and is met with a flat refusal.
The plot could have been simplified if Wycherly had just given the letters to Archer, but it's an effective way of demonstrating how ineffectual he is.  As we all learn in Writing 101, show, don't tell.
Please follow and like us: