THE ZEBRA-STRIPED HEARSE                Part One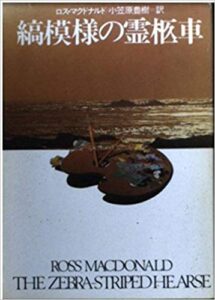 WHAT THE COMMENATORS SAY
"Ross Macdonald did well to rank The Zebra-Striped Hearse among his favorites.  The action is crisp, the atmosphere fully realized, and the ideas stimulating."
 Peter Wolfe, in Dreamers Who Live Their Dreams, devotes nearly twenty pages to the book, all of it positive.  The closest Wolfe gets to a negative comment was his observation that The Chill was even better.  We can all wish for this kind of reaction.
"The Zebra-Striped Hearse is one of Macdonald's superlative books. Tightly focused, like The Galton Case, on a single family, it marks a new level of Macdonald's achievement."
 Jerry Speir, in Ross Macdonald, also had nothing but praise, although he does echo a criticism of Bruce Cook, who pointed out that the resolution of the mystery depends upon "an astonishing coincidence." We will discuss the coincidence—actually, two coincidences—in due course.  Yes, Macdonald is guilty as charged. But almost all of his plots turn on implausible coincidences, and by the time this one is revealed, the reader will probably be carried right past it.
Bernard Schopen, in Ross Macdonald, also had nothing but praise, calling it a book that transcended the conventions of the genre and placed it securely into the mainstream of American fiction.
                                        What The Author Thought
             "A lot of people think it's my best book.  I don't really have an opinion, but I think it worked.  I think it's well constructed . . . It involves a great deal of mental effort, to take this kind of material in its complexity and not just impose a structure on it but find the structure that's inherent in the material."
                                                 Alternate Titles
 Macdonald's talent for unwieldy titles had not dimmed with time:
The Blackwell Imbrologio
The Blackwell Tragedy
The Living Eye
Murder Country
The People Watcher
The Whiteheaded Boy
                                                My Own Thoughts
             I have read this book three or four times before I specifically read it for this blog. Fortunately I had completely forgotten the plot.  I am breathless with admiration for what Macdonald did. As his investigation proceeds, Archer learns plenty of facts.  But nothing that he learns leads us anywhere. It's so big you can't see the edges.  And Macdonald seldom wrote a plot with this kind of driving pace.  Archer flogs away, driving or flying all over southern California and Mexico, with hardly a moment's rest.  I join the other commentators in saying that it's one of his best.
                                                A Drumroll, Please
 Despite good reviews, some of them raves, and a 25,000-word condensation that appeared in Cosmopolitan magazine before publication, sales were disappointing. Go figure.
It was also nominated for an Edgar by the Mystery Writers of America as Best Mystery of the year in 1963. Like the Edgar nomination in 1962 for The Wycherly Woman, it went nowhere. Macdonald, it will surprise you to learn, never won an Edgar. What do they know?
Please follow and like us: