THE ZEBRA-STRIPED HEARSE                 Part Five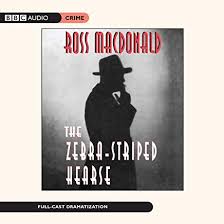 Archer Closes In
Archer tracks down Fawn King, a young, winsome girl trying to be a lounge singer but so far has succeeded only in becoming sort of a prostitute working the casino.  She knew all three of the people Archer is interested in—Campion, Dolly, and Ralph Simpson. She's an unforgettable minor character and it's too bad she only appears once.
Ralph Simpson fancied himself a private detective and he claimed to be investigating the murder of Dolly Campion.
Dolly was crazy about Bruce but he didn't pay much attention to her. Sound familiar?
Ralph told Fawn that he didn't think Bruce killed Dolly.
Ralph and Campion were friends. They were in the army together in Korea and Ralph idolized Campion.
Dolly was from Citrus Junction, the town where Simpson's body was found.
Based on a tip from Fawn, Archer goes to a cabin along the lake, but he is too late. The owner of the cabin, Edmund Damis, lent Campion his car earlier that day. (Not the only thing of Damis' that Campion appropriated.)
Damis says that Campion was disheveled and anxious to get out of the area. Campion said he needed to get to San Francisco.
Archer learns from Arnie that Campion was seen at a motel in Saline City.
When Archer visits the motel, he learns that Campion had indeed been there earlier that day, asking about registration records for May 5—the night that Dolly Campion was murdered. The desk clerk is certain that Campion is the same man that stayed there May 5.
It gets more curious. It will not surprise the reader than Campion was using the alias Damis, but you may be startled to learn than Campion had a woman with him on May 5.
The real Damis had given Archer the name and address of Campion's sister in Menlo Park. Archer finds Damis' car there. With the aid of darkness and a ball peen hammer, Archer persuades Campion to submit to police custody.
                                           The Beginning of the Mystery          
             As Bernard Schopen pointed out, the first eighteen chapters are merely the preliminary to the real mystery, which consume the remaining thirteen chapters.  If you feel that the apparent solution leaves you with unanswered questions, you are more right than you know.
I normally write longer posts, but let's stop here and reflect on how we haven't even started on the real investigation yet.
Please follow and like us: