THE ZEBRA-STRIPED HEARSE               Part Eight
                                                                                          Spoiler Alert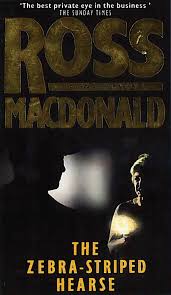 ARCHER COVERS A LOT OF GROUND
                                                     We Start in Los Angeles
Archer tries to see Isobel Blackwell but the maid announces she has gone to bed after taking sleeping pills and can't be disturbed. But it's not a wasted trip.  The maid has been with the family only a few months but she tells him that Harriet was a deeply unhappy young woman, full of doubts about whether she was at all attractive, and prone to fits of weeping. Archer had noted that she was ungainly woman with unappealing features, but this is the first glimpse we have into how much this affected her.
                                                  Next Stop, Citrus City
Archer takes the brown tweed coat when he visits the police officer in charge of the Dolly Campion homicide.  Early in his career Macdonald's detectives spar  with the police. Now, like Macdonald, they are older and smarter. And it's a good thing, too; Archer couldn't find a dry cleaner's mark on the coat but the police do.  It's a nice touch, to show that the PI isn't always one step ahead of the police. And there's something more. The police have the ice pick that killed Simpson.
The icepick was part of a fancy silver bar service that included a corkscrew. It was sold from a local hardware store to a local couple some months ago.
The couple who purchased it were Jack and Elizabeth Stone, Dolly's parents, who live directly across the street from where Ralph Simpson's body was found.
The police detective says he can't do anything without the DA's approval—the Stones are solid citizens even though the evidence is incriminating. But there is no objection when Archer volunteers to take over.
Stone recognizes the icepick and she confirms she bought the set at the hardware store as a wedding present when Mrs. Jaimet, who'd lived across the street, got married.
Jaimet had lived there for many years and was very close with their daughter Dolly; she was like a second mother to Dolly, having no children of her own.
Jaimet now lives in LA with her new husband. Archer waits while Mrs. Stone fetches their Christmas card.
"Merry Christmas from Colonel and Mrs. Mark Blackwell."
                                             Back to the Citrus City Police
            The detective is just as baffled as Archer. The Jaimets were leading citizens.  Ronald Jaimet was the high school principal and was universally admired. Mrs. Jaimet headed half a dozen volunteer organizations.
Ronald Jaimet was a diabetic.  He died after a hiking trip when he broke his leg and ran out of insulin before he could get to a hospital.
                                            And Now Los Angeles, Again
When Archer arrives at the Blackwell residence again, he is surprised to find Pauline Hatchen, Blackwell's ex-wife, saying goodnight to Isobel Blackwell. Pauline had flown up from Mexico as soon as she learned of Harriet's disappearance.  Archer talks to her in his car before he meets with Isobel.
Ronald Jaimet was good friends with Mark Blackwell; the two were first cousins.
Mark was with Ronald when he had his accident in the mountains that led to his death.
Pauline shows Archer a letter that Isobel wrote her after she and Campion came to California from Mexico. Isobel announces her determination to marry Campion and says she needs five thousand dollars so the two of them can go to South America and start a new life. She says it will only be a loan until her inheritance from her aunt comes through in six months, but she needs the money right away.
Pauline is prepared to give Isobel the five thousand dollars even if she has her doubts about Campion.
She tells Archer about Mark. He was dominated by his mother; when his mother died Mark became fixated on controlling their daughter Isobel. He supervised her reading and her activities, read her diary, interfered with any relationships she tried to have with men, and treated her like his puppet. "He got her so confused she didn't know whether she was a girl or a boy, or if he was his father or her lover." And it only got worse after he returned from the war. It was the main reason Pauline divorced him.
Please follow and like us: