THE ZEBRA-STRIPED HEARSE      Part Eleven
                                                                                       Spoiler Alert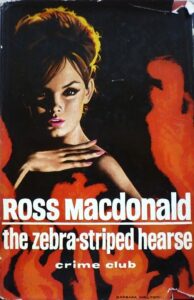 ARCHER FINALLY WRAPS IT UP
                                                          Or So You Think
Chapter 28 is short but filled with action:
Archer checks with the Highway Patrol and learns that the car was abandoned the day before, only a few hundred yards from the Blackwells' beach house.
He confirms that it's Harriet's car and heads down to the beach house.
When no one answers his knock, Archer uses the key Blackwell gave him when Archer was investigating Campion. And yes, it seems like a long time ago.
The bathroom contains a blood-soaked towel with spatters of blood on the floor.
In the bedroom is Mark Blackwell, unshaven and haggard. His answers to Archer's questions only make sense intermittently.
Archer starts with Ronald Jaimet. Blackwell admits that they had an argument about Dolly Stone on the trail and that Jaimet slipped and fell down the slope when the argument got physical.  He admits pushing Jaimet "in a playful way."
Blackwell admits to being infatuated with Dolly for many years but insist they didn't start having relations till after Ronald died. But last spring when he saw her in Tahoe he gave in to his urges.
He confirms what Isobel said, that after Dolly became pregnant she harassed Blackwell for money. (He gave her a good deal of money, which accounts for the money she told Simpson about.) He married Isobel to insulate himself from Dolly's demands for marriage.
When Blackwell refuses to admit anything more, Archer fills it in. Blackwell went to Dolly's house and strangled her to put an end to the blackmail.  After she was dead he noticed the baby, his own son, and took care to put him in the neighbor's car where he would be found. The baby tore loose the button. Then, when Ralph Simpson did his own investigation, working on behalf of his friend Campion, he found the coat and took it. Whether Simpson wanted blackmail money or just wanted to confront Blackwell before going to the police doesn't matter. Blackwell took the ice pick, a present from Dolly's parents, and killed Simpson with it.  He weighted the topcoat and threw it into the ocean.
Archer asks Blackwell whose blood is in the bathroom. He said it's Harriet's, that he killed her as well and hid the body.
When Blackwell asks Archer for some water, Blackwell obtains a revolver. He tells Archer to back away, telling him, "You don't want to be the fifth one."
When Archer backs out, Blackwell shuts the door and then shoots himself.
The action happens so fast that on a first reading there is nothing odd about it. But on a careful reading, note that what Blackwell spontaneously confesses to is about his relationship with Dolly and the murky circumstances of Ronald Jaimet's death.  It's Archer who makes the speech about the murders of Dolly and Simpson. Blackwell just goes along with it.
We are getting closer to the innermost Russian doll.
Please follow and like us: